Oh this is simply divine – a melon and curry sauce that can be used over anything!
You will need a good food processor/blender and: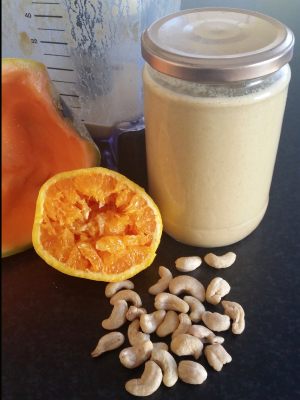 How To Make:
1 cup of cashews soaked and drained. (for optimum result soak overnight).
Blend these nuts until really, really creamy then add:
1 Tblsp Maple syrup
1 teaspoon Vanilla
1/4 cup Fresh orange juice
1/2 teaspoon cinnamon.
Blend these with the nut cream then add:
The flesh of 1/2 a Rock Melon (for a more traditional taste use a Mango).
2 – 3 teaspoons Curry powder – add enough curry powder to your taste.
Blend until smooth tasting as you go so you don't over-do the curry.   You want the flavour of the Melon to come through.
Once the sauce is blended to a creamy consistency, put it into a glass jar and refrigerate.  You can add to all sorts of dishes at the last minute to just get it heated through.
Note:
You don't want to boil it … be gentle if heating through on its own.
Please leave a comment if you do make this and what you added it to.
Enjoy
Fee




Save
Save