It's a myth that many believe … that you have to have meat in order to get good amounts of iron.
Here in New Zealand, we have  Olympic athletes who advertise on our  T.V. for the meat industry, touting Beef and Lamb being rich in protein and iron.  Kind of saying – eat this and you'll be an athlete like me.
Sadly I have some news that hopefully will dispel this crazy myth that meat iron is good for us.
Yes, we need iron.  In simply language we need it for healthy red blood cells which carry oxygen around our body.
Meat iron is called heme iron and it differs considerably from plant iron … and here's why.
Iron is regulated by the intestines.  So when we don't have enough, the intestines will increase the absorption of iron into the blood.  When we have too much iron, the reverse happens – the intestines decrease the iron.
But, here's where it gets interesting.  You see, it does NOT work for heme iron.  The intestines can only regulate plant iron!!!!
Heme iron also is a pro-oxidant.  That means it can generate cancer-causing free radicals.  Quite honestly you don't really want to have heme iron in your body at all, plus, how many meat eaters do you know who are really into their antioxidants?  Check out my post on Antioxidants
So if you are relying on meat for iron, or your doctor has told you that it is the best source, understand that because the intestines can't regulate it …. too little will lead to anemia, but, too much (which the average meat eater has), you run the risk of cancer and heart disease.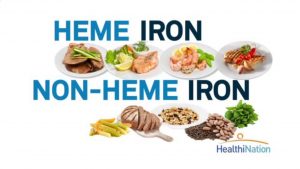 BUT – I haven't finished yet!!!!!  This next bit is really interesting.
I have it on very good authority that the meat industry is looking at ways to have additives that will
"suppress the toxic effects of heme iron"
This reminds me of the Tobacco Industry who knew back in the 1920s & 30s that cigarettes caused cancer, but nothing was done until 1969 when finally the public were made aware of the dangers.
So does this action from the meat industry sound familiar???
I leave you to ponder on that, and I'd love you to leave a comment.
Ciao
Fee




Save
Save